Marquette has clinched the top seed and the the bracket is really taking shape now.
Here are the official tiebreaker rules from the Big East for seeding purposes: https://www.bigeast.com/documents/2023/2/17/2023tiebreakers.pdf
Seeding
For No. 1 Seed
Clinched.
Matchups
With the seeding nearly locked in stone, it's time to start the process of mapping out Marquette's route in the Big East Tournament.
Here's a place you can see the bracket, based on. So not final yet, just probably speaking.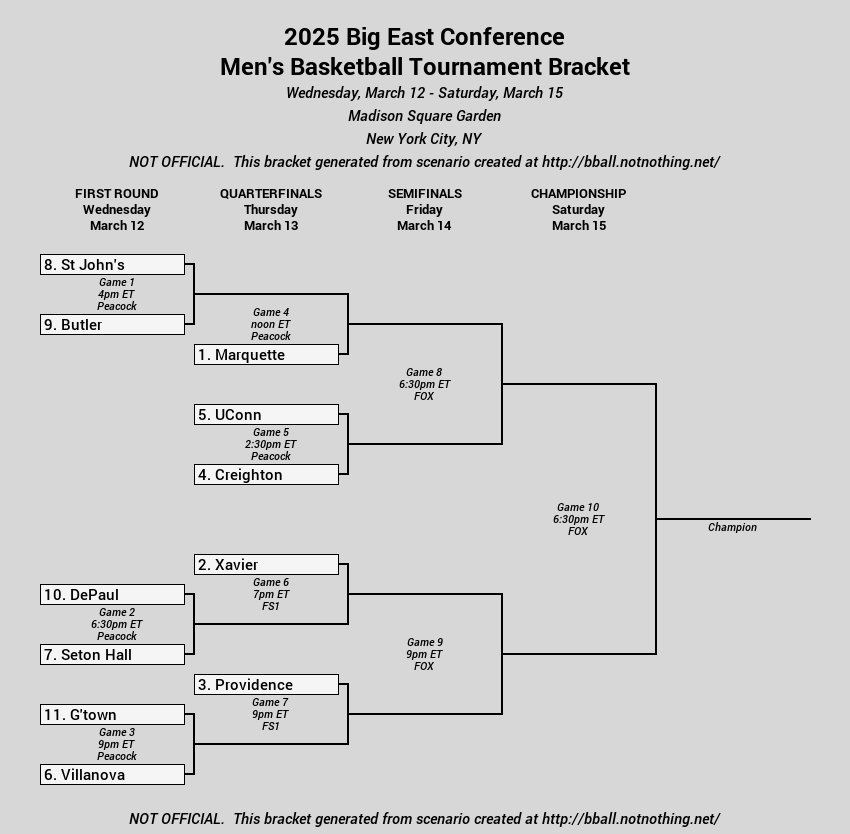 Marquette will certainly face the winner of the St. John's vs Butler 8/9 game on Thursday afternoon.
The 5 seed will also more likely than not be UConn. They currently have an 73% chance of finishing 5th .
The 4th will probably be Creighton at this point though we'll get a clearer picture soon.
There's still a slight chance that UConn moves all the way up to the 3 seed, but that will require Creighton losing to DePaul, UConn beating Villanova and Providence losing to Villanova.
So while the exact teams aren't yet decided, the top half of the bracket will probably involve the teams included in the image above.
Big East Map
If you want to see what the upcoming schedule looks like, this week's games are in yellow.