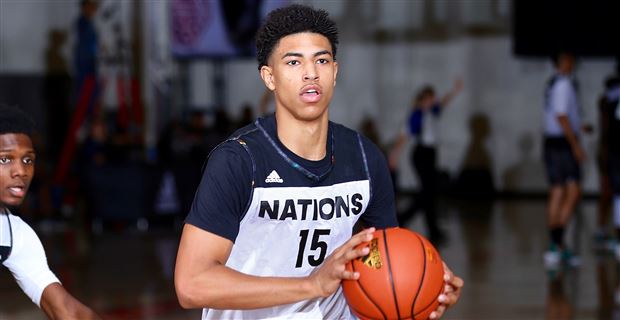 When a 5-star, top-15 level player puts Marquette in his list of final four schools he'll be deciding from, it's a pretty big deal. For all its history and accomplishments, Marquette isn't at a Duke or Kentucky or heck even Arizona or Indiana level when it comes to recruiting, where 5-stars are a way of life. So having Quentin Grimes list MU alongside Kansas, Kentucky and home-state Texas is a big deal. Full stop.
It's not every year where an out of state one-and-done prospect plans an official visit to Milwaukee. And while there are no prizes in recruiting for coming anything but 1st, the work Wojo and the staff have put in has to be recognized in and of itself.  
From Quentin's comments to other outlets, it seems that has been one of the biggest selling points to date. Wojo brought his whole staff to Quentin's games in Las Vegas this summer and brought the whole staff to an in-home visit earlier this month. The message is being sent loud and clear: we want no one but you.
Of course, getting the coveted commitment from Joey Hauser earlier this year helps in terms of needs for 2018. There are no scholarships left, so there is no immediate downside to putting so many eggs in this basket. Let there be no doubt, the staff is all in for Grimes.
I don't have many contacts left and don't really follow recruiting much at all, to be honest, so I try to stay away from writing pieces on which I am reading someone else's tea leaves. But when I saw the Tweet below, something changed.  
There are no games to watch. This wasn't a planned in-house visit. I searched the web pretty extensively and could not find a similar statement on any of the Texas, UK or KU boards indicating Shaka, Cal or Bill had also visited, let alone their entire staff. It's not normal to get midweek visits like this outside of the basketball season so shortly after the last house call. So let me flesh out some thoughts as to what this might mean.
Kentucky is Kentucky. If there is an open scholly for you, it means that you are probably headed to the NBA no matter what, usually after a year. You can't compete with them in terms of success or facilities or a path to the pros. If you are using college as a stepping stone to the NBA, you can't do better than a year under Cal playing with 6 or 7 other future pros.
Kansas is Kansas. While they don't have the NBA pedigree of Kentucky or Duke, the historical dominance it has had on the Big 12 speaks for itself. If you go to Kansas under Self, you will more than likely play with a few pros, win the Big 12 as many times as years you are on campus and have a great shot at a Final 4.
These two schools don't have to sell themselves at all. Sure, Cal and Self both want Grimes so they will do plenty of selling, but the pitch is obvious. Add in the fact that Grime's mother went to Kansas, and it's tough to see anyone winning a recruiting battle against them. 
That leaves Texas. While Texas isn't the behemoth blue blood KU or UK are, it has plenty of history and even more potential. They haven't won an NCAA Tournament game under Shaka Smart yet, but with 5 top-100 recruits for this season, including top-3 player Mo Bamba, they will surely make some noise. Add in the local school angle, and Texas' inclusion seems prudent, and their chances fair.  
My impression is that Wojo's trip to Houston on Tuesday was all about Texas. Grimes is scheduled to take an official visit to Austin this weekend, and as has been the case for 99.9% of all official visits in history, he will have a great time and come out with a great appreciation of the program. While Marquette probably can't beat out UK or KU one on one, taking on Texas may be a bit more reasonable. In a head to head with MU, UT would probably be favored 60/40 or even 70/30, not great odds, but better than facing the others. 
We've already seen tangible evidence that Grimes wants to be the Guy. The night Arizona received a commitment from a top-20 PG in Jahvon Quinerly, Grimes Tweeted "6," unofficially cutting his list from 7 to 6 before deleting the Tweet. And the blue boys are in on a number of heavy hitter PG/SG prospects. Kentucky recently had an official visit with top-10 Immanuel Quickley while Kansas had an official from top-25 Devon Dotson and is also in play for Quickley. 
This is where having Marquette go last (10/20) for the official may come in handy. By that point, Kansas and Kentucky may already have highly rated guards committed. Grimes is a baller, and would probably still have a spot should he want it on either team, but as he's shown already, he may not want to share that spotlight.
So it may come down to Texas and Marquette after all. And Wojo just wanted to reinforce once more that Marquette is poised to open a new stadium with a talented, veteran team that could need one heavy usage ball handler to take the leap from potential Sweet 16 team to potential Final 4 team, before that burnt orange washed over any blue and gold kool-aid. 
If you had to ask me today, I don't think Grimes hears his name on opening day 2018 in a blue gold uniform. But the landscape could become much more favorable in a few weeks. Should that come to pass, Wojo will be sitting pretty with all the chips already on the table.