Losses always bring out the pessimist in me, so if you follow Paint Touches on Twitter, you've probably seen a heavy dose (of warranted) gloom.
But what fun is it to dwell in the doom? So instead of diving into some of Marquette's issue, and prompted by some Sound of Music watching this weekend, I want to point out a few of my favorite stats and quirks so far this season.
Off-Ball Koby
I made my qualms with Koby McEwen known early and often last season, and didn't relent all offseason. But for as good as he's been this season, I don't think he's gotten as much attention as he deserves, from me or the MU fan base at large.
He currently rocking a career best ORtg of 119.7, scoring efficiently from just about every spot on the floor.
He still seems to turn it over a bit too much, particularly when forced to play PG, but even here he's at a career best 18.0% TO rate. Simply put, he is thriving off-ball.
Now, I do think there is a bit of mean reversion coming. He probably won't finish the season at 44% from behind the arc, but the rest of his game looks fairly in line with his freshmen numbers, though on the high side of what could be expected.
I'm most curious about the P&R numbers, as he's currently leading Marquette in PPP (.951) and is 2nd in possessions (41) behind only DJ's 48. I thought this was an area of concern after a tough start to the season across the board, but Koby's leap in volume and efficiency has given the offense an outlet when plays break down.
All in all, it has been a dream start for Koby.
Freshmen Phenoms
John Rothsein noted on Twitter that the abbreviated preseason and staccato nature of games this year has made it tough for freshmen to make an impact nationwide. As I don't trust anything he Tweets that isn't a news break, I had to double check for myself, focusing on the Big East.
And what do you know, he was right. There are only 9 freshmen in the Big East that have played over 40% of available minutes. Only 4 have an ORtg over 100, and 2 of those play for Marquette.
This isn't just a case of Marquette being thin in the frontcourt, results be damned. Justin Lewis and Dawson Garcia have been excellent, exceeding the lofty expectations and giving the offense a new bevy weapons to work with.
We are still in the early part of the season, so there will come a point where we see them hit a wall and regress a bit, but nothing in the underlying stats shows they are prime for mean reversion. In fact, I think Dawson in particular has plenty of upside left.
They are two of the best freshmen Marquette has seen this generation, so I will enjoy every minute of every season we get with them.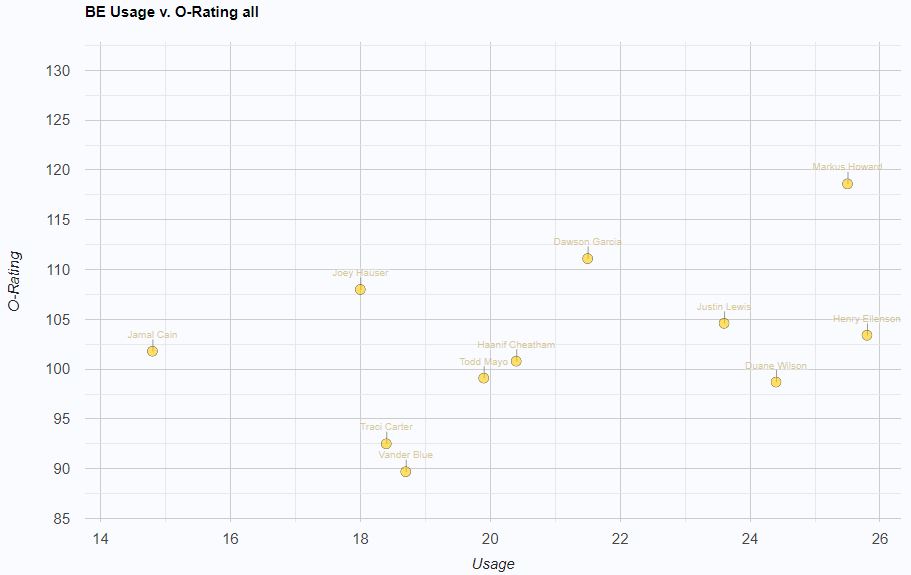 DJ's Burners
DJ Carton's advanced numbers are still below what the eye test is showing, though getting better.
But of all the facets of his game, the way he can hit the jets from a standstill and get to the rim astounds me the most. I haven't seen that speed, whether in the half court or on an open floor since Dominic James.
From Wauwatosa!
The end result prevented this call from really standing out, but it was seriously one of the best regular-season calls I think I've ever heard. MOAR ERIC COLLINS PLEASE!
Theo's Post Ups
I hoped playing with two working hands would improve his offensive output, but what we've seen from Theo so far has blown that out of the water. Theo is currently 14th in the country, scoring 1 point per post up possession (minimum 40 possessions) and is hitting a ridiculous 66% of the shots he gets off.
Compare that to his freshmen to junior year numbers, and it makes me even more optimistic that there's still another level he can get to.
| | | | | | |
| --- | --- | --- | --- | --- | --- |
| | Poss | Pts | PPP | TO% | %FT |
| 2021 | 44 | 44 | 1 | 25 | 18.2 |
| 2020 | 70 | 57 | 0.814 | 14.3 | 24.3 |
| 2019 | 88 | 78 | 0.886 | 17 | 21.6 |
| 2018 | 55 | 38 | 0.691 | 34.5 | 7.3 |
He's turning the ball over a lot more than the last two years, and getting to the line less. Obviously, that's not a "good" thing, but it does tell me there's more efficiency left to be squeezed from the Theo post up.
But stats aside, he has never looked as confident or as fluid in the post as he has so far this season, and it's something I hope Marquette keeps exploiting.