Due to work circumstances, I've found it difficult to put pen to paper on the old blog, and have instead dumped some threads onto Twitter.
Normally, I'd say it's lazy and inefficient to then copy and paste that into a blog, but it's better to keep it all in one place, particularly for those who aren't on Twitter.
#EliteCuttingUnit
Dunkapalooza!
I've never thought to check where #mubb's dunks rank nationally, but not only are they 2nd in total dunks made, they are also 2nd in the country in share of shots that come from dunks.
It's never finished in the top 50 nationally (since 2010).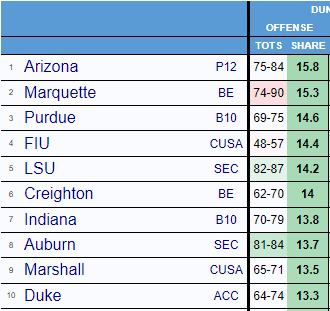 Originally tweeted by Paint Touches (@PaintTouches) on January 12, 2022.
Putting the 3s back in 3s and dunks
#mubb shot 45.8% from 3 last night, its 2nd best game of the season and best at Fiserv.
If you look at the TRank trend, you can see the 5-game average (the black line), shooting up 8 points in just 3 games. That's awesome to see.
The big Q: is it sustainable?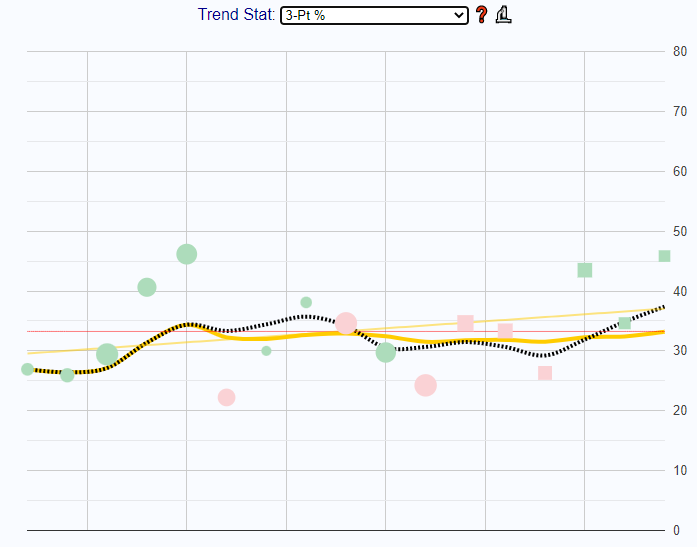 I've beat the drum over and over that this isn't a good shooting team, and I still wouldn't call the season long average of 33.2% "good," though it's not awful any more (186th).
But I do think there has been a significant change.
For starters, the ratio or 3s as overall FG attempts has gone down pretty significantly. Here is the 5-game rolling average.
If you don't have a cadre of shooters, it's best to not make it the primary source of offense.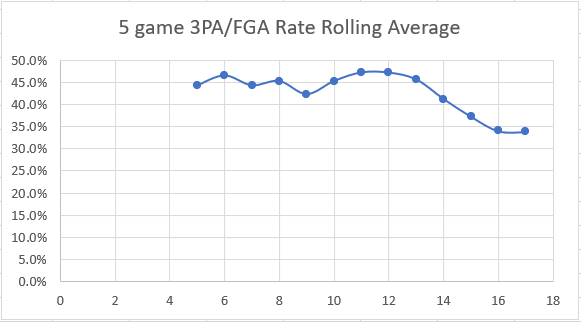 But the really interesting part, to me, is who in fact is shooting those 3s.
Only 2 players who averaged at least 1 3pt attempt a game in Dec and Jan have increased their volume.
But look in that circle, Kolek, Lewis and Morsell all decreased their volume.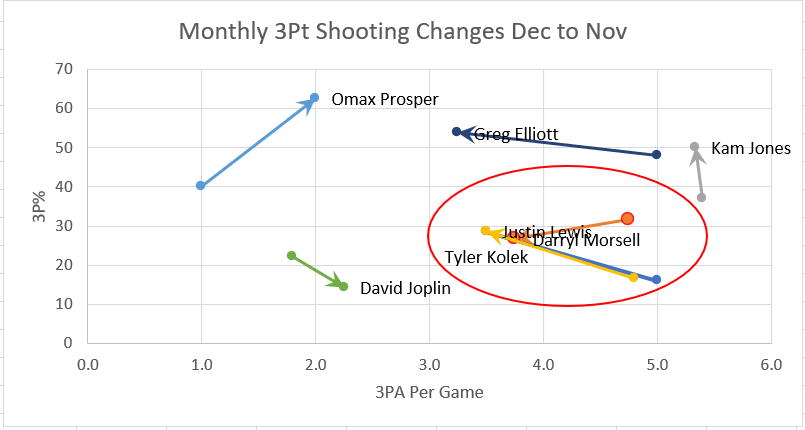 These are your pillars, the ones who play the most minutes being much more discerning with their shot selection and not settling.
They are still taking 3+ a game, so it's not like they have a red light, but the quality of them also continues to improve.
But the thing with 3s, it's always important to acknowledge how much luck comes into play.
In Dec, MU shot 36% (14/39) on unguarded 3s.
In Jan it's at 60.8% (17/28).
There have been (and will be) games when the good looks just don't go down.
All in all, though, the process seems much more sustainable.
Get Kam and Greg as many open looks as you can.
Get OMax that open corner pocket.
Limit contested looks.
May the results continue to follow.
Originally tweeted by Paint Touches (@PaintTouches) on January 12, 2022.
With Style